.
.
.
Scroll mouse to zoom in or zoom out
YunTeng VCT5208 Tripod with Bluetooth Remote Control Shutter for Mobile Phones, DSLR, and Sports Cameras
Tripod comes with a Carry case to carry the tripod easily without any damage
The monopod keeps your mobile phone, camera or camcorder stable and comfortable for any occasion. Max Height 4.1 Feet, Max Load 2.75 Kgs
The pan head with 1/4 screw, suit for almost cameras. 3 Way pan Head and self-adjusting camera
The Ultimate Professional 50" Tripod - Extends to 50" > Tripod Has Special Carrying Handle Professional Foam Grip
Great Tripod For Nikon Df, D3200 D90, D600, D5000, D3000, D7000, D7100, D800, D800E DSLR, D3100 D5100 CANON REBEL DSLR, Canon EOS M, T4i, T2i, T3i, T3, EOS-M, 6D, 60D DSLR
For Others Cameras
Awstro is Secured Use Best Payment Gateways

More than 1 Million Orders Delivered Successfully

7 Days Refund & 30 Days Replacement Policy*

Product : TRIPOD

MODEL : 

Shipmate Tripod With Bluetooth Remote Control Shutter For Mobile Phones, DSLR, and Sports Cameras.

Tripod, high-quality aluminum alloy and are selected through special surface treatment, produced by a rigorous examination, lightweight and sturdy and easy to carry.

Able to adapt to the crude complex environment of the terrain.

Both for traditional cameras, digital cameras and also suitable for the use of small cameras.

Technical Information

Head: three-dimensional head 

Moving Head angle: 360 degrees

Tilt (downward): 90 degrees

Tilt (up): 65 degrees

Material: ABS High quality aluminum and plastic combined

Weight: about 0.6kg

Maximum load: 1.5kg 

Number of leg sections: 4

Maximum leg diameter: about 18mm

Tripod storage height: 43cm

Tripod Minimum height: 43cm

Tripod Maximum height: 125cm
Tripods are one of the tools for imaging and photography. Yunteng VCT 5208 is a unique type of tripod used for all kinds of photography including mobile photography. It includes a Smartphone holder, a bluetooth remote shutter that can be used to trigger smartphone camera shutter. This product is compatible with iOS and Android operating systems. This tripod weighs of 600g and is rotatable by 360°. It has universal ¼ size screw that can be used to attached any cameras to the tripod.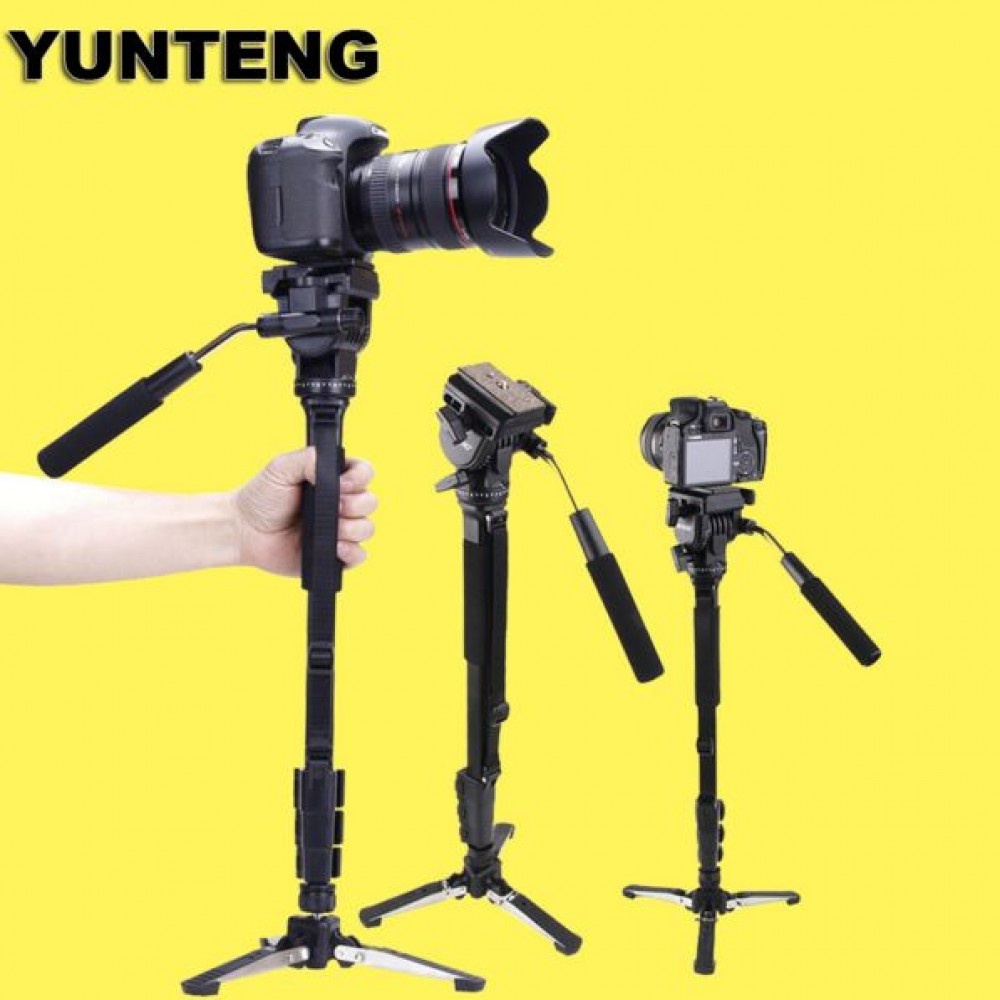 Data sheet
Item model number

YunTeng VCT5208 Tripod with Bluetooth Remote

Compatible

with All Mobiles, Cameras